Please let us know about YOUR JustaJoy Happy Story!
_____________________________________
Hawes Bible
[Special Note: This JustaJoy member wanted to express appreciation for JustaJoy.com in spite of not being able to recover an original item - exemplifying why we always leave information and pictures from sold items on the site.]
Your website "JustaJoy" says it all for me today! I have been searching for some missing information on Joseph and Sarah Hawes although I didn't realize how much until I decided this morning to put their son Phineas's name in the search on the web and see if I could locate information I hadn't been able to obtain other ways. I so appreciate that you not only had the Bible with the information but also that you would take the time to post all the information that you did. Thank you so much. I gleaned so much information from it. I didn't have 4 of their children and didn't have complete dates on three of the ones I had. I also didn't have a lot of other information that you shared.
I wish I had seen your post years ago. I do appreciate the information I was able to get and would have loved to have purchased the Bible but I am happy with the things I have and you made my day. I had a rough morning and had said a prayer and found the information within 5 minutes after. I am so thankful again for all you did and your efforts to put things out there for others including myself to have and use.
________________________________________
Pre-Civil War North Carolina Store Ledger
Charles C. Durham
"I was reading a magazine in the doctors office about a website that linked heirlooms with family members. I joined and posted my family surnames not really expecting anything, yet, hoping. A ledger appeared from Shelby, N.C. from my ggg-grandfather's merchandise store in 1856. I couldn't believe my eyes! When the ledger arrived I cried.
Just to hold something over one hundred and fifty plus years old that he had held and to see the purchases by my family and their neighbors! History turned into life. I am passing them immediately to my great-grandchildren who are in middle school. Their dad is a history teacher and their mother, a heirloom aware scrap booker, will keep the ledger safe. It will make history a living study for them. Thank you, thank you JustaJoy for the service of heart you provide."
Luella Taylor - Denton, TX
________________________________________
War of 1812 Pension Document
"My husband and I are very pleased to find the 1851 letter from the pension commissioner regarding a claim for bounty land. John Hollenback was my husbands great grandfather. Thank you."
Nancy Clark - Henderson, NV
_______________________________________________________
Victorian Era Trade Card

"My husband and I are excited to find this postcard that can be added to our genealogical 'gems'. Dr. Jayne was a great uncle to my husband whom he never met but had heard about through family. We have saved a bottle that once held one of his tonics but this will be so special because of the artwork. Thank you JustAJoy.com and George for bringing us together with this item. I've only been a member for three days, and success already!"
Susan Colvin - Merrillville, IN
__________________________________________
1942 "Quips & Cranks" Davidson College Yearbook


"I was so excited & surprised to discover this yearbook. Due to the fact that I amadopted & didn't discover my biological parents until late in life, I never got to meet my father in person. He died at the age of 38. In this yearbook is only the second time I have seen his picture. Thank you JustaJoy.com for all of your hard work."
Jane Black - Atlanta, GA
__________________________________________
Victorian Era Trade Card
"As a professional genealogist compiling a history of all the Dunhams in America, I have researched this family for many years. However, there were still some Dunhams whose ancestry I had not been able to trace back. Recently a friend pointed me to the JustaJoy web site and said that there were some items containing the Dunham surname for sale on that site.
I went to the site and found an interesting looking trade card advertising the Willis and Dunham Millinery shop in Minneapolis, MN. I purchased the card from the vendor and when it arrived I found it to be in excellent condition just as the description on the JustaJoy web site had stated.
Then, my job was to identify this Dunham. By research in the census I discovered his name was Marshall L. Dunham, and he was in partnership with Isaac B. Willis in the wholesale millinery trade. BUT - I did not find a Marshall L. Dunham in my very large data base! It was time to take a fresh look and see if I could identify this Marshall L. Dunham. More research helped me find the death record of Marshall's brother Warren H. Dunham who died in 1887. That death record gave his parents as Van Rensselaer and Ora Dunham. I did have Van Rensselaer Dunham (and his wife Ora Corbin) in my genealogical data. The family had moved quite often, from New York state to Michigan, back to Ohio and then to Wisconsin, and finally to Minnesota. Marshall L. Dunham was listed on the 1860 and the 1870 census living in Minnesota and on the 1880 census living in Minneapolis. Marshall Dunham and Isaac B. Willis were also listed in the 1888 City Directory of Minneapolis with their occupation in wholesale millinery.
My thanks to Joy for creating this fantastic web site which allows people to search for items that might once have belonged to their family. In my case I was able to solve a genealogy problem by taking a 'fresh look'."
Gratia Dunham Mahony - Huntsville, Alabama
______________________________________
Civil War Letter
"Are you the Joy in JustaJoy? If so, I can't thank you enough for your fabulous website! What an awesome idea! Your hard work is very much appreciated - I'm sure by many people! I actually signed up in hopes of finding my grandmother's long-lostVictorianphoto album (FLEWELLING, WEHL/ WALES surnames - Ohio and CA), and was surprised and thrilled to find an original letter written by my gr-great grandfather during the Civil War! I am looking forward to researching the recipient of his letter, Lt. W. Hart, Jr., too! So, Please send the invoice - I can't wait to pay for this letter!"
[After arrival of item]
"Thank you from the bottom of my heart for shepherding this fabulous piece of our family's history back "home". It's just amazing to hold a letter that my gr-great grandfather wrote nearly 150 years ago, at the close of the Civil War! Wow!! I can't thank you enough for recognizing its value to his descendants and listing it on JustaJoy.com. It has become an instant family treasure!"
Cindy Reinhardt - Santa Barbara, CA
________________________________________
1920's College Calling Card
"I received the calling the calling card for Annabel Waits yesterday, and it was so awesome to actually be holding something that one of my family members held 80+ years ago! Annabel would be the first cousin of my dearly beloved grandfather, who rarely talked about the past, so this is a side of my family that I know very little about. Now all of a sudden I know that Annabel attended a teacher's college in Athens, and with a little more research I was able to find her grave and who she had married. It helped to fit another piece of my genealogy puzzle! Thank you so much! You provide a much needed service in helping orphaned heirlooms find their way back home to those who treasure them!"
Maria Rogers - Savannah, Georgia
____________________________________________
WWI Honor Roll Poster
"For my father-in-law, this is like winning the lottery. He has always taken so much pride in his father who was in WWI. He is telling everybody! Thank you JustaJoy.com!"
Phyllis Caldwell - Anderson, SC
Added note - There were two TV features done on this story in the Spartanburg area. (Please forgive the 15 second commercials.)
CBS TVaffiliate did a very sweet story on this match and can be seen at the link below:
http://www2.wspa.com/news/2012/sep/24/how-find-family-artifacts-your-surname-ar-4615968
Fox Carolinaalso did a story that featured Joy as well as the Caldwell's:
http://www.foxcarolina.com/video?clipId=7817695&autostart=true
_____________________________________________________
WWII Medical Personnel Photo

"I was surprised and pleased to see the name of one of my relatives from a picture that I am sure was considered lost to the ages. Thanks to JustaJoy a family memory can be restored and a piece of our history can be preserved and passed down. Thanks Joy!"
Greg Hampe,Virginia
Note - On December 4, 2012 a TV story was done on Greg on ABC Channel 7 news in Washington, DC. You can see it at the link below:
http://www.wjla.com/articles/2012/12/justajoy-com-linking-family-histories-82741.html
_______________________________________
1916 Concord, NC Newspaper
"I was really happy to find this item. A front page article reference Michael Caleb Rinehardt who was a Confederate soldier along with his father who was my Great-Great-Great Grandfather. This is particularly interesting to me, a Civil War reenactor and husband to a Civil War fiction writer ("Carolina Rain" series). Despite doing genealogy for more than 30 years, I don't have a lot of Rinehardt information and certainly no artifacts until now. I am proud to have this original newspaper to add to the family archive."
Vernon Brewer, Concord, NC
______________________________________________
1810 Family Bible

"Found in a stack in our church library in Atlanta, an 1810 family Bible withfull family names engraved on the front. It contained 200 years of records in beautiful handwriting, totally legible. We received contact from the great-great-great grand daughter, in Virginia, who was thrilled to find it. She made a generous contribution for the children in our church's community basketball league. Happiness has spread broadly!You have a business that is combined with mission!"

Mary Stripling, Atlanta, GA

"JustAJoy is a wonderful site for reuniting families and heirlooms. I was able to obtain a family Bible published in 1810 as a result. It is wonderful to have the opportunity to learn more about my g-g-g-grandfather and his family. We learned that there were several children we did not know about including the firstborn preemie who lived only 4 hours. This event certainly has me sold on JustAJoy.com."

Lila Davis, Virginia Beach, VA

Wavy TV in Hampton Roads, VA did a TV story on this event - to see the video click:

http://www.wavy.com/dpp/hr_show/whats-your-problem-orphan-heirlooms ______________________________________________

WWII Regimental Photo



"My sister googled my grandfather's name and to our family's surprise we discovered that JustaJoy.com Family Heirloom Exchange had a picture for sale of a military platoon standing for a photo in front of barracks dated 1945. On the back of this photo was a rare incident where the men in the photo had written their names and hometown and state on the back. Joy Shivarof JustaJoy.com Family Heirloom Exchange cleverly listed all the names of the men in the description of the photo. This enabled our family to find a unique and only picture of our grandfather when he was 18 years old. My grandfather passed in 1996. My brother will have a great keepsake for his future children to carry on with our last name. Our grandfather was from Oakdale, Tn."
Thank you Tom and Pam - siblings
Thea, Susan, and Ryan - grandchildren
_______________________________
War of 1812 Pension Documents
"The documents deal with a claim from my g-g-g-g-grandfather, Thomas C. Shay, who fought in the War of 1812. I've been researching the family history for a number of years, and it is great to have these in my possession."
Thank you,
Thomas Shay, Arlington, VA
____________________________________________________________
1915 Graduation Picture
"We were delighted to obtain the composite of the 1915 dental school class. Dr. Hinman was a member of the faculty at that time and the discovery of this memorabilia ties in perfectly with the celebration of our 100thanniversary!"
Sylvia Ratchford - Executive Director, Hinman Dental Society, Atlanta, GA

_________________________________________
1943 University of North Carolina Yearbook

"Received and it's wonderful! So great to see my grandfather as a 21 year old, with all sorts of adventures in front of him. Thanks again for making this happiness possible."

Harris Kay - Chicago, IL
___________________________________________
Table Made from a WWII Athletic Field Plaque from an Airfield
"

This story began with a letter from my niece, Judy in Sunnyvale, California. Judy has been tracing the McKendrick family and came across a message regarding a table constructed out of a wooden plaque measuring about 18" by 16". The plaque apparently was originally displayed at Walker Army Air Field. It is entitled, "Walker Army Air Field Athletic Events".
It listed champions in volleyball, badminton, basketball, softball and touch football for the years 1944 and 1945. Under "Volleyball 1944 330th Group Officers" is the name 1st Lt H.R. McKendrick.
I contacted the antique dealer, and identified myself as the 1st Lt. McKendrick she was looking for. I was assigned to the 330th Bomb Group in 1944 and as part of our training program participated in many of the sports. The first indication that Walker Army Air Field made plaques of our sporting events was in the letter from my niece. After 67 years and efforts of my family I have possession of the table and plaque. It certainly brought back many memories and names of the officers and airmen I served with in World War II.
My thanks and appreciation go to my daughter, Patricia Wright and her husband Mike, theirfriends in Charlotte, Jeneann and Joe Underwood who picked up the table. All this was made possible by my niece's intense interest in genealogy.
Additional note written to Joy:
"Enclosed is my check. Enjoyed talking to you tonite. I haven't seen my family so excited for a long time...Warmest Regards,"
Colonel Howard R. McKendrick
Thank you for your service, Colonel McKendrick. What a honor this event was for me. - Joy
______________________________________________________
"What an incredible website. The Bivins Bible I received has been a subject of much conversation and joy in my family. Friends also admire the opportunity to just look at it because it is so old (1824). How many times does anyone get to hold and touch something from that time period? Just think of the history that surrounds that Bible. We know it started in New York, went to Ohio, and ultimately was in North Carolina. What happened to it for 183 years? Oh if books could talk...
Thank you for all you do"
_____________________________________________________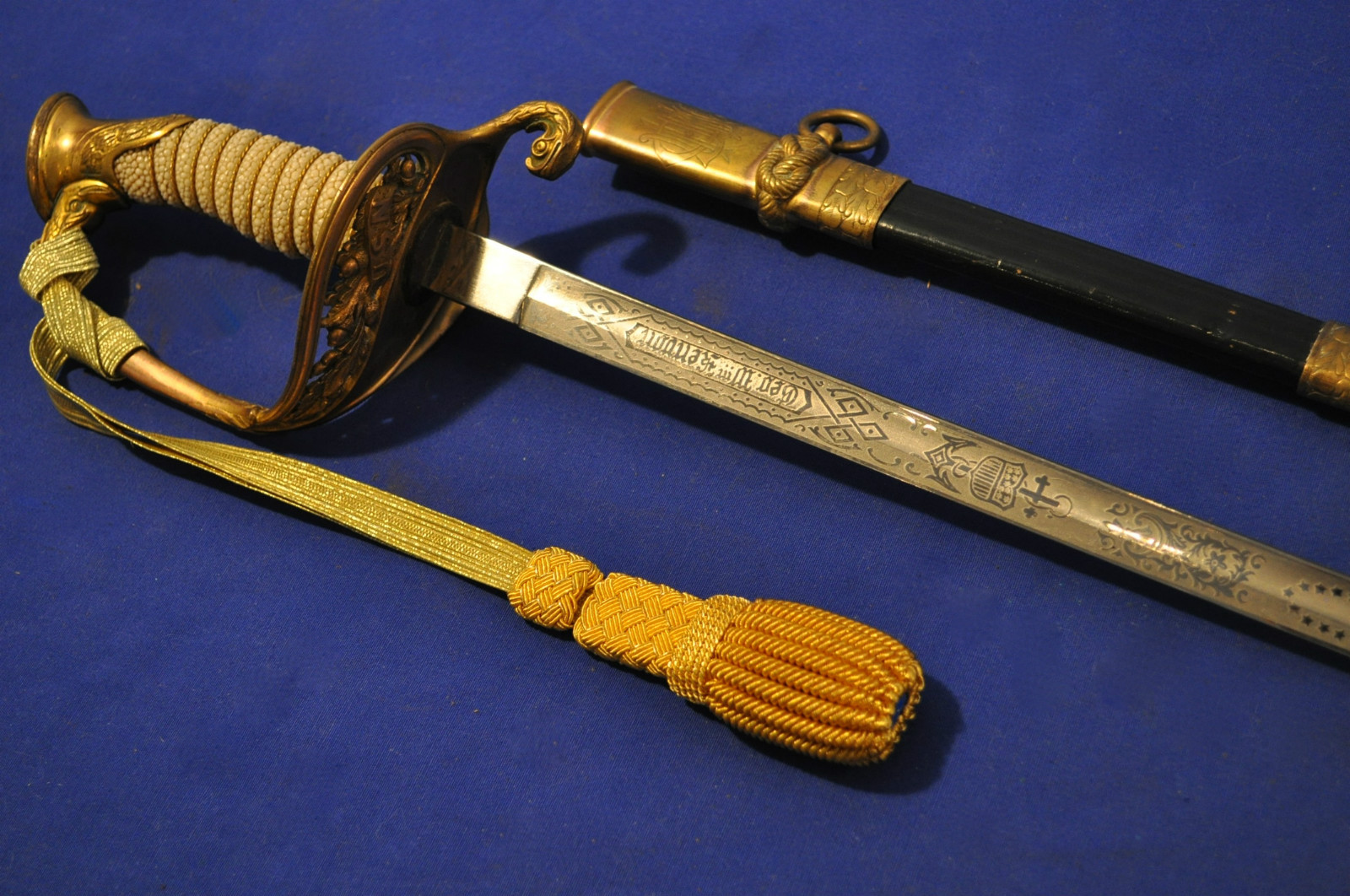 "Not long ago, I spotted a posting on the web that sparked my curiosity, a U.S. Navy dress sword, circa WW 1, had been found with the name of my grandfather [B.D. Folwell]inscribed on the blade. I responded to the query and received an immediate reply. We exchanged information, I with historical information about my grandfathers service as a U.S. Navy officer during World War 1, incuding a photo of him in uniform, and she with numerous photos of the sword and scabbard. We soon came to the conclusion that the sword, in fact, had belonged to my grandfather. You cannot believe my surprise and delight when I was able to purchase this treasure.
Without someone like Joy making use of the web, I would have never known about the sword located on the opposite coast of the USA. Today, a historical artifact of my family history has been re-united with my grandfather's father's Civil War saber and enjoys an honored place in our home. For my family, this sword holds much more than the intrinsic value of a collector's piece, for us it is priceless. Thank you Joy!"
________________________________________________________________________
1779 Revolutionary War Muster Roll
"The internet is an amazing place. How wonderful that you were able to use it to find me and help get the 1779 muster list back home to Pennsylvania and to me specifically as a descendant of David Strauss. It is truly a priceless piece of history."

Annette
______________________________________________________
1961 "Flight Jacket" Yearbook
"Aloha, Joy and staff - Today I received the 1961 "Flight Jacket yearbook in the mail. I can't tell you how happy I am to have it. My father passed away in 1995 and we have some of the mementoes from his Naval career, but I had not seen this book among his things. I deeply appreciate the time it took to key in all the names of the people in this yearbook.
You can imagine my complete surprise when there was an item listed. I am so thrilled to have this book with a picture of my father that I have never seen before. We have all been so proud of his career as an aviator in the U.S. Navy and it's amazing to have this wonderful yearbook as a keepsake. Thank you for this wonderful service that you provide, bringing items like these home to those
who will cherish them forever."
Camille Domaloan Michel -
Honolulu, Hawaii
____________________________________________________________________
Institutional & Celebrity Connections
The JustaJoy.com Family Heirloom Exchange is an outgrowth of JustaJoy Historical Treasures - an antique business that specializes in items from American history.
Some of the institutions and museums who have purchased items through JHT include:
Historic Columbia (Preservation Society) - Columbia, SC
Smithsonian Institution National Museum of African American History & Culture - Wash. DC
International Center of Photography - New York, NY
DuSable Museum of African American History - Chicago, IL
Tennessee State Museum - Nashville, TN
Maryland State Archives - Annapolis, MD
American Independence Museum - Exeter, NH
Greensboro Museum of History - Greensboro, NC
Eastern Kentucky University - Richmond, KY
Appomattox Court House National Historical Park - Appomattox, VA
Jarrett Museum - Jackson, SC
National Underground Railroad Freedom Center - Cincinnati, OH
Museum of Lincoln County - Lincolnton, NC
Virginia Tech College - Lynchburg, VA
Charlotte Museum of History - Charlotte, NC
Latta Plantation Park - Charlotte, NC
Hart Square 19th Century Log Village - Hickory, NC
Marine Corps League, Detachment #260 - Greensboro, NC
Statesville Historical Collection - Statesville, NC
Memory Lane - Classmates.com
Homestead Museum - City of Industry, CA
Alabama War Museum - Harvest, AL
The University of Louisville - Louisville, KY
Celebrity customers

have included:
John Lewis - Senator from Georgia, Civil Rights Leader
Wes Cowan - Star of "History Detectives" & "Antiques Roadshow"
Henry Louis Gates, Jr. - Star of "African American Lives" & "Finding Your Roots"
Chris Mitchell - "Antiques Roadshow" appraiser
We have also sold to many movies including "

National Treasure II

" and most recently the new Steven Spielberg movie,"

Lincoln

", the yet to be released

"Ten"

starring Arnold Swartzenenegger and "

42

" about Jackie Robinson. Also,the TV series "

Devious Maids

".